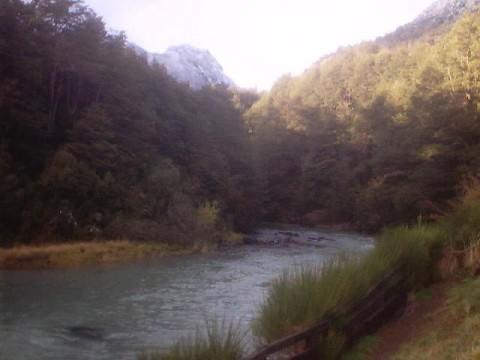 In April 2002, almost nine years to the day that Annie died, I went to South America, to raise money for FSID in her memory. It was a wonderful experience that, for me, can never be followed. A once in a lifetime opportunity to pay tribute to both my beautiful daughter and to the charity that gave me so much support. Below are some extracts from the diary I kept when I was there, and some pictures of Patagonia and the mountains of the Andes.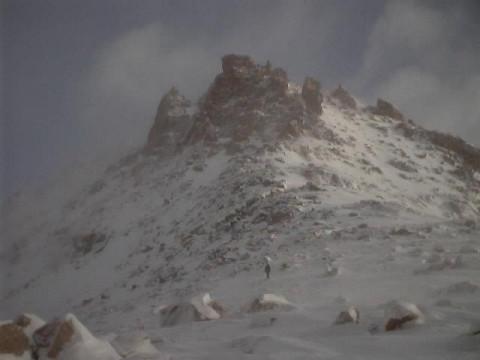 Cerro Catedral
THE TREK DIARY
Day 2 - Had really good night's sleep with breakfast in our cabins, then we got on the bus to travel to our starting point at Las Buitreras. Everyone was so optimistic and the views were fantastic! A asthma attack didnt help my first upward climb but thanks to the others with inhalers, trekking poles and an lot of encouragement, I made it. Coming down the other side was very steep and and then we had to cross a very rickety old bridge. Eventually arrived at our campsite in the Nirihuau Valley, right beside the river. We sat and ate our goulash and rice in the glow of a magnificent campfire, then 25 tired campers retired to our tents to sleep.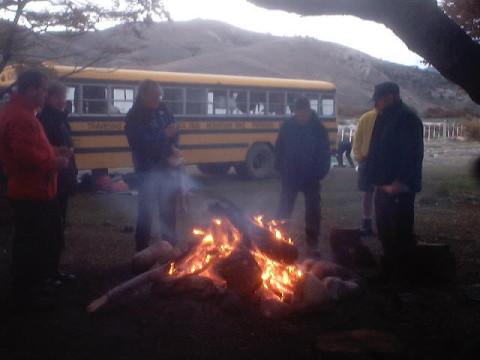 Day 4 - After a hearty breakfast and plenty of affectionate encouragement, we started out early to climb Cerro Challhuaco. The autumn colours in the forest were beautiful and the views just got better and better. Eventually, we were there, right at the top - 7000ft!!!!!! The view was stunning, it felt so good to be at the top, the wind blowing my hair and taking my breath away. I blew up a balloon containing a message of love to Annie - I figured this was the nearest to Heaven I could get - but just as I let it go, it burst! They say that Heaven is just beyond your fingertips, so I guess my little girl got her message....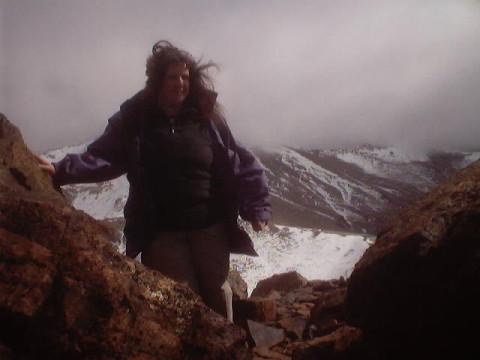 At the top of Challhuaco
Day 5 - Another hearty breakfast then off to meet the bus to change kit before beginning our climb up to Cerro Catedral. This was more than the straight climb that took us to the top of Cerro Challhuaco. There were lots of tricky rocks and bridges to negotiate and the hardest was a sheer rock face with nothing but a chain for support! I didnt dare look down, but with the help of the lads I got across. The further up we climbed, the faster the snow fell but the view was wonderful. Our last obstacle was a waterfall, but although I fell in, we managed it. A blizzard hit us right at the top, which was very frightening, but we made it to the very basic hut for the night.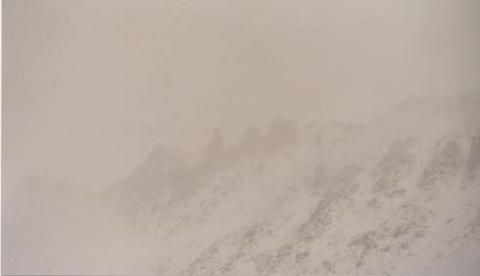 The blizzard
Day 6 - Last night's accommodation was very basic, the bed damp and the toilet a hole in the ground, but David made porridge for breakfast and I was ready for anything! It was so beautiful - like being in another world altogether. I shouted to the mountains that they wouldnt scare me and we made our way back down to the shore of Lake Gutierrez. It wasnt an easy journey, but we made it and spent the night in comparative luxury.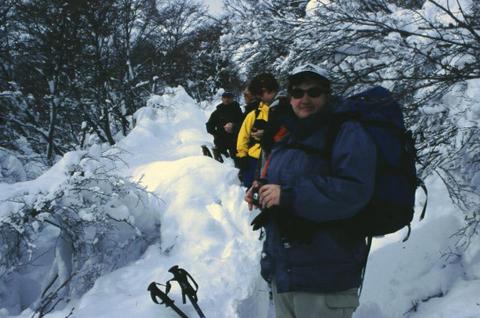 Coming back down to earth
Day 7 - The next morning saw us on our way across Lake Nahuel Huapi on a wonderful boat ride, watching the sunrise over the mountains around the lake. We reached Puerto Blest and then plunged into rainforest. The terrain was very different to the mountains, trekking through trees that were 3000 years old. Climbing up from a secret lagoon on a trail that hadnt been walked in 40 years, we ate the pure white snow to keep us refreshed - no pollutants here. It was a very long day though and as darkness fell we were still descending towards our camp for the night, climbing over fallen tree trunks which left some lovely bruises! We reached the immigration buildings 11 hours after leaving the boat and we all slept by the big log fire as everyone was just too tired to put up tents.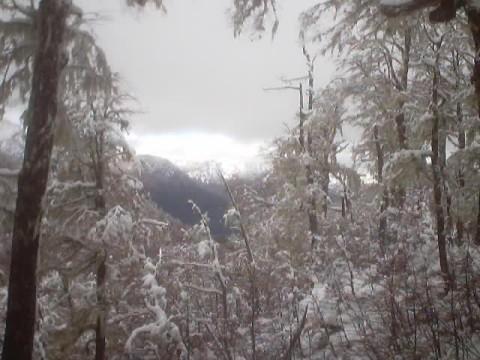 Pure white snow
Day 8 - We started early today, having to get over the border and reach the boat by 10am. The two hour ride across Lago Todos de Santos was worth the early rise though, and again we watched the sun coming up and the mists clearing.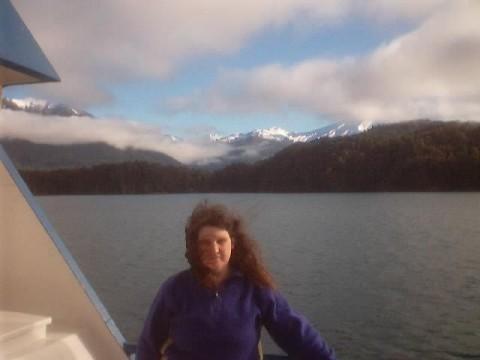 Boat on Los Todos de Santos
There were mountains and waterfalls all around and in the distance, on the shore of Lake Llanquique, was Osorno, the biggest of the Chilean volcanos. The bus then took us to our hotel in Puerto Varras where it was lovely to kick off my boots and have a shower with nowhere to go! We had a fantastic three course meal and lots of speeches and certificates. Then music and dancing until we were all tired and drifted off to bed.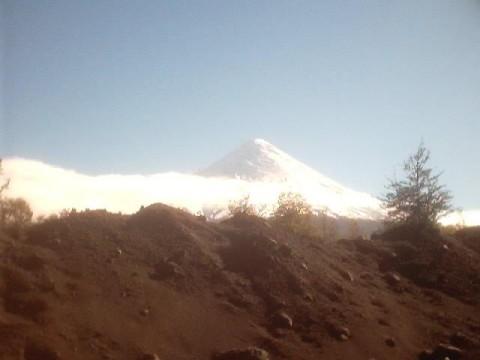 Osorno
Day 9 - After breakfast and lots of goodbye hugs, it was time to go to the airport for the long journey home. After a long wait we were finally on our way, and arrived back in Wales having completed the Patagonia Challenge. It was wonderful to see the boys again, I had really missed them. It was so good to hold them all tight, but I wished with all my heart that I could hold my precious daughter again too.....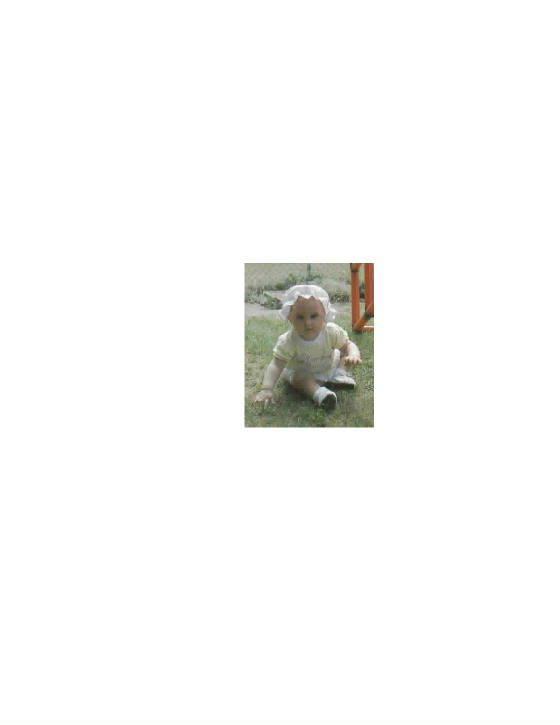 If you would like to know more about the work that FSID does in support of those affected by Cot Death, or if you would like to donate or find out about fund-raising yourself, please click on the logo. Thank you.